It all started with a commission to paint various groups of birds, including birds of paradise, for a Papua New Guinea field guide. In 2014, on a month-long expedition to that Oceanian country, Hungarian nature artist Szabolcs Kókay developed the work, which was followed five years later by a bird-watching trip to West Papua. This was more than enough to completely fall in love with the birds of paradise. The inspirations and ideas born from those two trips resulted in several paintings, with many ideas still in preparation.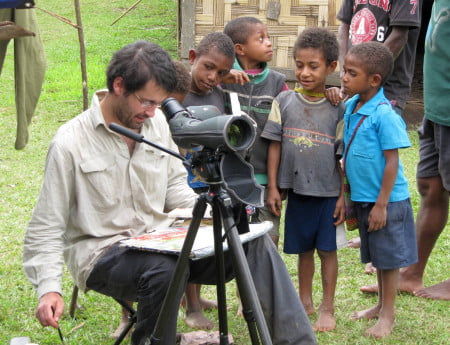 Szabolcs Kókay has been interested in birds since childhood. Observing and drawing nature go hand in hand and he cannot imagine doing one without the other. He started working for BirdLife Hungary and then at the Ministry of the Environment in his country, on the Washington Convention on Endangered Species (CITES). This activity allowed him to obtain a broader vision of nature conservation, in addition to growing as an illustrator. With more and more commissioned work, it became difficult to combine both facets, so in 2001 he took the step and chose to dedicate himself full time as an artist and illustrator.
Lecture given in English with simultaneous translation.
'Painting birds of paradise'
February 19th | Stage Marquee
More information: https://kokay.hu/