Different ways of using sound recordings based on experience in communication, outreach, acoustic ecology and citizens' science.
Carlos de Hita has worked on more than 180 documentary programmes and film productions, including 'Panteras' (2021), 'Cantabrian, the mountains of the brown bear' (2017), 'Elvoy de Unai' (2016), 'Guadalquivir ' (2014), 'Entrelobos' (2010) and '14 kilometres' (2007). He is the author of the books 'The sound of nature, a sound calendar of the landscapes of Spain' (2021) and 'Sound and visual journey through the forests of Spain' (2019). He regularly collaborates with the media and, among other awards, has received the BBVA Foundation Award in the category of 'Dissemination of Knowledge and Awareness of Biodiversity Conservation in Spain' (2017).
Eloïsa Matheu, biologist and audio naturalist, began recording bird vocalizations and their repertoires in 1987 and very soon also discovered the power of soundscapes. In 1992 she founded the record label Alosa, Sonidos de la Naturaleza and published the first sound identification guides in Spain on birds, amphibians, mammals and orthoptera, as well as soundscapes. She is interested in the dissemination of the sounds of nature as a tool for conservation. She gives talks, audioconferences, workshops and courses. She has collaborated in exhibitions, documentaries, books, multimedia projects, press, radio and TV programmes, regularly participating in radio programmes on the environment.
José Luis Copete began bird watching in 1981, when he was 12 years old. He has visited five continents, either for birding trips or research projects. He has worked as an editor on the HBW and HBW-Alive series since 2002. He has been involved since 2008 as an identification reviewer in the 'Handbook of Western Palearctic Birds' (2018). He has published papers on identification in 'British Birds', 'Dutch Birding' and 'Alula', and numerous articles in academic journals on taxonomy, moult and behavioural ecology. He develops scientific dissemination projects, such as La Radio del Mormujo, and works as Content Manager for the online platform Birds of the World, from Cornell University.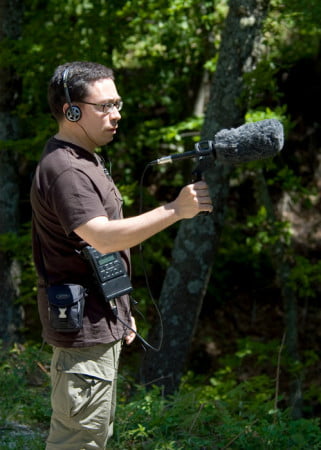 José Carlos Sires was born with problems of sight, although that did not prevent him from being fascinated by nature from his earliest childhood. He was attracted by the shapes and colours of fungi and toadstools, but at the age of six he lost his sight completely and that magical world was closed to him. Everything seemed lost until he was ten years old, when his music teacher played a cassette of bird sounds in class and that was an instant hit for him. In 2014 his father gave him a recorder with which he discovered his true vocation: to record the sounds of birds and landscapes in which he intends to capture the overwhelming beauty and variety of nature.
'Around the sound. Different ways of listening to nature'
19 February | Stage Marquee